Les Dunes Ecrehou
Les Dunes Ecrehou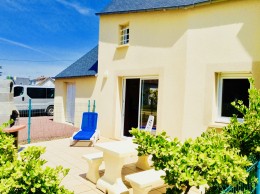 Houses are located 150m from the beach.
30, boulevard de l'avenir
50270 Barneville-Carteret
Accomodates: 4 people.
Bedrooms: 1 bedroom upstairs with 1 double bed and mezzanine 2 beds.
WC : 1 WC au rez de chaussée et 1 WC à l'étage
Size: 60m2.
Private car park: 2 places.

No more « bad surprises », you will enjoy 100% of your stay with us because everything is included in the price:
Electricity and heating are included in the rental price, as well as water.
Avail / Prices
Prices are all inclusive (water, electricity).
Janv
7 Janv -> 14 Janv

14 Janv -> 21 Janv

21 Janv -> 28 Janv

28 Janv -> 4 Fév

Fév
4 Fév -> 11 Fév

11 Fév -> 18 Fév

18 Fév -> 25 Fév

25 Fév -> 4 Mars

Mars
4 Mars -> 11 Mars

11 Mars -> 18 Mars

18 Mars -> 25 Mars

25 Mars -> 1 Avril

Avril
1 Avril -> 8 Avril

8 Avril -> 15 Avril

15 Avril -> 22 Avril

22 Avril -> 29 Avril

29 Avril -> 6 Mai

Mai
6 Mai -> 13 Mai

13 Mai -> 20 Mai

20 Mai -> 27 Mai

27 Mai -> 3 Juin

Juin
3 Juin -> 10 Juin

10 Juin -> 17 Juin

17 Juin -> 24 Juin

24 Juin -> 1 Juillet

Juillet
1 Juillet -> 8 Juillet

8 Juillet -> 15 Juillet

15 Juillet -> 22 Juillet

22 Juillet -> 29 Juillet

29 Juillet -> 5 Aout

Aout
5 Aout -> 12 Aout

12 Aout -> 19 Aout

19 Aout -> 26 Aout

26 Aout -> 2 Sept

Sept
2 Sept -> 9 Sept

9 Sept -> 16 Sept

16 Sept -> 23 Sept

23 Sept -> 30 Sept

30 Sept -> 7 Oct
430 €
Oct
7 Oct -> 14 Oct
350 €
14 Oct -> 21 Oct
350 €
21 Oct -> 28 Oct
390 €
28 Oct -> 4 Nov
390 €
Nov
4 Nov -> 11 Nov
350 €
11 Nov -> 18 Nov
350 €
18 Nov -> 25 Nov
350 €
25 Nov -> 2 Déc
350 €
Déc
2 Déc -> 9 Déc
350 €
9 Déc -> 16 Déc
350 €
16 Déc -> 23 Déc
350 €
23 Déc -> 30 Déc
450 €
30 Déc -> 6 Janv
450 €
Facilities
Most facilities are common to all our vacation rentals. For more information, contact us…
Appliances
Toaster
Electric Kettle
SENSEO Coffee maker
Coffee maker
Microwave
Dishwasher
Oven
Ceramic hob
Fridge with freezer box
Heating
Hairdryer
Washing machine
Multimedia
TV flat screen 43 inch
DTT & satellite
Free Wi-Fi Internet
Outside facilities
bedding slats of very good quality
Deckchairs
Garden furniture
Charcoal barbecue
Terrace
Well fenced private garden (rigid panel 170 cm high) and surrounded by hedges
Bicycle storage
Private car park
Services
Mandatory cleaning (50 €)*
Bed linen (12€-25€/person)
Towels (2€)
Bath towels (2.50€)
Washcloth (0.60€)
House linen (2€)
Pets accepted (50€/animal for stay)
* In order to ensure that each holidaymaker benefits from clean accommodation that complies with health regulations, the end-of-stay cleaning service is compulsory